Star to Watch
MEGAN FOX
By R. Kurt Osenlund
,
The Good Life
film critic
I chose this week's
Star to Watch
subject with a lot of hesitation. After all, what is Megan Fox but a sexy pin-up and a hot-button media target? She certainly hasn't done anything in her brief acting career to warrant the massive amount of attention she's receiving. But then I submitted: If everyone else is talking about this outspoken wild child, why shouldn't I?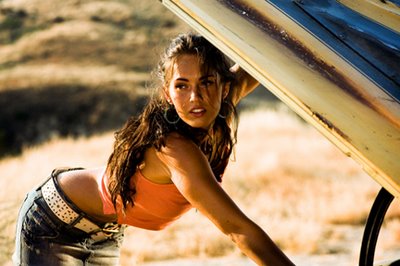 The photo above is from Michael Bay's first "Transformers" film -- the movie that made Megan a mega-star. It's the only picture I'm including in this post because said blockbuster is basically the only noteworthy credit for the "actress" prior to "Transformers 2: Revenge of the Fallen," which arrives in theaters June 24. (She did appear in last year's "How to Lose Friends and Alienate People," but nobody saw that, so let's leave it out.)
What Megan is more known for are her scantily-clad Maxim covers and her scathingly candid interviews, wherein she's quick to talk about everything from the pedophilic undertones of "High School Musical" to her disdain for the use of 10-dollar words by peers like Scarlett Johansson. Megan is a prime example of the weightlessness of modern mainstream consumer culture: she's hot, she's controversial and she's hurled herself into the public eye, therefore she's interesting. The fact that she's been in a few movies is secondary.
One of Megan's more redemptive qualities is that she seems fully aware of the absurdity of her fame. In a recent interview with
Entertainment Weekly
, she remarked that she doesn't believe she's done enough professionally to earn her celestial level of stardom. I've got to give the girl some credit: she took the words right out of my mouth.
No one expects anything Oscar-worthy to come from Megan in the "Transformers" sequel, and only time will tell if she's truly to be taken seriously as an actress. For now, though, we'll take the uncensored Q & As and the smoking photos. Because, like it or not, Megan Fox is a star to watch.